Horse Shows and Equestrian Events
My Florida Horse
All about Florida horses, show jumping, dressage, eventing, barrel racing, rodeos, western pleasure shows, riding lessons, and trail riding. Current news about horses as well as riding tips from the experts.
Aug 26, 2016
Planning for Equine Evacuations During Hurricanes
By Agricultural Communications, Texas A&M University System


Evacuating when a hurricane hits is a stressful and scary experience, especially when evacuating with horses. While tornadoes give little warning for evacuation, hurricanes can give enough lead time to actually move people and horses out of the storm's expected path. But even with that time, preparing for equine evacuations can be crucial to the survival of horses. More info...
Aug 25, 2016
What's Your Trainer Teaching Your Kid?
BY DELORES KUHLWEIN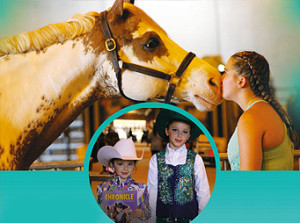 A young mother listens impatiently, crossing her arms, and tapping her feet, as her own mother doles out unsolicited advice. "I don't envy you having to raise a child these days," the grandma declares. "The world has changed, and it's a lot harder to protect your kids against negativity." Her daughter tries to suppress rolling her eyes, while directing her attention back to her toddler.
More info...
Aug 24, 2016
Tip-Top Trailer
By Kate Bradley


Extending a horse trailer's life benefits both the owner and the animals carried inside. Here, two top trailer professionals offer six maintenance tips to minimize costly repairs.
Most horse owners know first-hand the high cost of purchasing a trailer, new or used. Trailer experts Vic Keeton and Pete Zanetti explain that proper maintenance can help owners save money over the long haul, plus ensure safer travels for their horses. More info...