Tryon Horses | Shows | Eventing
Carolina Foothills Equestrian News
Jan 18, 2017
Honoring the Horses of War
.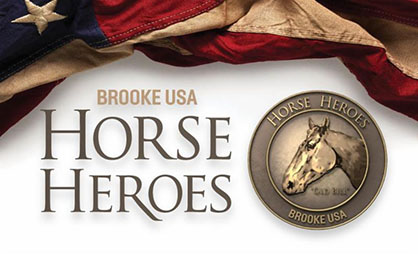 This year, the U.S. will commemorate its World War One Centennial by marking the 100th anniversary of its entry into the bloodiest war of the century. As part of the commemoration, Brooke USA will remember the one million American horses and mules who served alongside their brave soldiers, by raising one million dollars to improve equine welfare around the world through their Horse Heroes campaign. More info...
Jan 17, 2017
Brett Kidding Performs 'Sideways Things' and More in His First Grand Prix Freestyle
Leslie Threlkeld


Brett Kidding GP Freestyle London Olympia from Tristan Tucker on Vimeo.
Tristan Tucker of TRTMethod is back with another hilarious video featuring his alter ego Brett Kidding working through trials and tribulations in the dressage arena. This time Brett performs his first Grand Prix Freestyle as test rider at the Olympia Horse Show in London. Get ready for a good laugh and to fall completely in love with his horse, who is so very very well behaved (and clearly well trained) but obviously has a great sense of humor himself.
More info...
Jan 17, 2017
Ichis My Choice Named Open Horse of the Year
Ichis My Choice & Grant Setnicka • Photo by Hannah Harrel



After a tight race between two 4-year-old mares, Ichis My Choice has emerged the victor in the contest for National Cutting Horse Association (NCHA) Open Horse of the Year honors.

Ridden by Equi-Stat Elite $1 Million Rider Grant Setnicka, of Grandview, Texas, Ichis My Choice (Cat Ichi x My Little Abra x Abrakadabracre) made the battle interesting when she qualified for the top 15 in the NCHA Open World standings. While the mare, bred by EE Ranches of Texas Inc., trailed Amandas CD (High Brow CD x Amanda Stargun x Playgun) at the end of the limited-age event season, she had the chance for redemption. More info...
more about Carolina horses